Pterygium excision with suture-less and glue-free conjunctival autograft
Fariha S. Wali

Sindh Institute of Ophthalmology and Visual Sciences, hyderabad

Muhammad Jawed

Sindh Institute of Ophthalmology and Visual Sciences, hyderabad

Rafeen Talpur

Sindh Institute of Ophthalmology and Visual Sciences, hyderabad

Naeemullah Shaikh

Shehnilla Shujaat

Khalid I. Talpur
Keywords:
conjunctival autograft, glue-free, pterygium excision, suture-less
Abstract
Introduction: Pterygium excision is a commonly encountered surgery with different methods being used. These procedures range from simple excision to use of grafts. Limbal conjunctival autograft is currently the most popular surgical procedure. The most common method of autograft fixation is suturing. But it has its own drawbacks like increased operating time, post-operative discomfort, inflammation, buttonholes, necrosis, giant papillary conjunctivitis, scarring, and granuloma formation. Glue is widely used due to many advantages like easy fixation of the graft, shorter operation time, and reduction in complications and post-operative discomfort but at the same time has some disadvantages also like high cost, the risk of transmission of infections
and inactivation by iodine preparations.
Purpose: In the following study, we describe a simple method of accomplishing conjunctival autograft adherence during pterygium surgery avoiding possible complications associated with the use of fibrin glue or sutures.
Design: Prospective study.
Method: We used conjunctival autograft, which was not sutured or glued to the scleral bed. The fibrin formed from the oozing blood was used to get the graft adhesion to the scleral bed. This study was approved by institutional review board, and written consent form was taken from each participant.
Results: The suture-less and glue-free conjunctival autograft was found to have excellent results in terms of surgical outcome as well as post-operative recovery. In addition, risk of side effects related to sutures and glue was eliminated.
Conclusion: Suture-less and glue-free conjunctival autograft is a new, easy, and cheaper technique for the management of pterygium.
References
Zloto O, Rosen N, Leshno A, Rosner M. Very long term success of pterygium surgery with conjunctival graft. Cont Lens Anterior Eye. 2017;40(4):267-269.
Gross J, Wegener AR, Kronschläger M, Holz FG, Schönfeld C-L, Meyer LM. Ultraviolet radiation exposure triggers neurokinin-1 receptor upregulation in ocular tissues in vivo. Exp Eye Res. 2018;174:70-79.
Mao L, Huang W, Zou P, Dang X, Zeng X. The unrecognized role of tumor suppressor genes in atrial fibrillation. Gene. 2018;642:26-31.
Arriola-Villalobos P, Cifuentes-Canorea P, Peraza-Nieves JE, et al. Fibrin glue conjunctival autograft for primary pterygium: Overall outcomes and outcomes in expert versus trainee ophthalmologists. J Fr Ophtalmol. 2018;41(4):326-332.
Messmer EM, von Lindenfels V, Garbe A, Kampik A. Matrix metalloproteinase 9 testing in dry eye disease using a commercially available point-of-care immunoassay. Ophthalmology. 2016;123(11):2300-2308.
Kheirkhah A, Safi H, Molaei S, Nazari R, Behrouz MJ, Raju VK. Effects of pterygium surgery on front and back corneal astigmatism. Can J Ophthalmol. 2012;47(5):423-428.
Spaide RF, Fujimoto JG, Waheed NK, Sadda SR, Staurenghi G. Optical coherence tomography angiography. Prog Retin Eye Res. 2018;64:1-55.
Zarei R, Masoumpour M, Moghimi S, Fakhraei G, Eslami Y, Mohammadi M. Evaluation of topical bevacizumab as an adjunct to mitomycin C augmented trabeculectomy. J Curr Ophthalmol. 2017;29(2):85-91.
Mednick Z, Boutin T, Einan A, Sorkin N, Slomovic A. Simple limbal epithelial transplantation for recurrent pterygium: a case series. Am J Ophthalmol Case Rep. 2018.
Vlasov A, Sia RK, Ryan DS, et al. Sutureless cryopreserved amniotic membrane graft and wound healing after photorefractive keratectomy. J Cataract Refract Surg. 2016;42(3):435-443.
Akbari M, Soltani-Moghadam R, Elmi R, Kazemnejad E. Comparison of free conjunctival autograft versus amniotic membrane transplantation for pterygium surgery. J Curr Ophthalmol. 2017;29(4):282-286.
Brejchova K, Trosan P, Studeny P, et al. Characterization and comparison of human limbal explant cultures grown under defined and xeno-free conditions. Exp Eye Res. 2018;176:20-28.
Vazirani J, Mariappan I, Ramamurthy S, Fatima S, Basu S, Sangwan VS. Surgical management of bilateral limbal stem cell deficiency. Ocul Surf. 2016;14(3):350-364.
Messmer EM, May CA, Stefani FH, Welge-Luessen U, Kampik A. Toxic eosinophil granule protein deposition in corneal ulcerations and scars associated with atopic keratoconjunctivitis. Am J Ophthalmol. 2002;134(6):816-821.
Shwin KW, Lee C-CR, Goldbach-Mansky R. Dermatologic manifestations of monogenic autoinflammatory diseases. Dermatol Clin. 2017;35(1):21-38.
Elwan SAM. Comparison between sutureless and glue free versus sutured limbal conjunctival autograft in primary pterygium surgery. Saudi J Ophthalmol. 2014;28(4):292-298.
Kheirkhah A, Nazari R, Nikdel M, Ghassemi H, Hashemi H, Behrouz MJ. Postoperative conjunctival inflammation after pterygium surgery with amniotic membrane transplantation versus conjunctival autograft. Am J Ophthalmol. 2011;152(5):733-738.
Pérez-Silguero D, Díaz-Ginory A, Santana-Rodríguez C, Pérez-Silguero MA. Pterygium surgery and fibrin glue: avoiding dehiscence. Arch Soc Esp Oftalmol (English Edition). 2014;89(1):35-37.
Kim KW, Lee SJ, Kim JC. TNF-α upregulates HIF-1α expression in pterygium fibroblasts and enhances their susceptibility to VEGF independent of hypoxia. Exp Eye Res. 2017;164:74-81.
Dhany R. Primary nasal pterygium excision with sutureless and glue-free technique of conjunctival autograft. Asian J Ophthalmol. 2019;16(3).
Kenyon KR, Wagoner MD, Hettinger ME. Conjunctival autograft transplantation for advanced and recurrent pterygium. Ophthalmology. 1985;92(11):1461-1470.
Soliman Mahdy MA, Bhatia J. Treatment of primary pterygium: role of limbal stem cells and conjunctival autograft transplantation. Eur J Ophthalmol. 2009;19(5):729-732.
Uy HS, Reyes JMG, Flores JDG, Lim-Bon-Siong R. Comparison of fibrin glue and sutures for attaching conjunctival autografts after pterygium excision. Ophthalmology. 2005;112(4):667-671.
Alston SM, Solen KA, Broderick AH, Sukavaneshvar S, Mohammad SF. New method to prepare autologous fibrin glue on demand. Transl Res. 2007;149(4):187-195.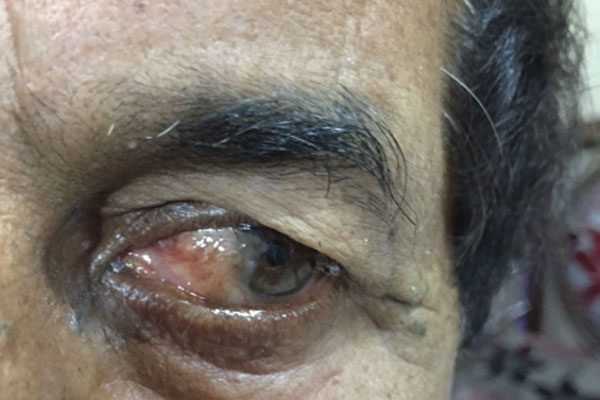 How to Cite
Wali, F., Jawed, M., Talpur, R., Shaikh, N., Shujaat, S., & Talpur, K. (2020). Pterygium excision with suture-less and glue-free conjunctival autograft. Asian Journal of Ophthalmology, 17(2), 227-232. https://doi.org/10.35119/asjoo.v17i2.579
Section
Original Articles
Copyright (c) 2020 Fariha S. Wali, Muhammad Jawed, Rafeen Talpur, Naeemullah Shaikh, Shehnilla Shujaat, Khalid I. Talpur
This work is licensed under a Creative Commons Attribution 4.0 International License.
Authors who publish with this journal agree to the following terms:
Authors retain copyright and grant the journal right of first publication, with the work twelve (12) months after publication simultaneously licensed under a Creative Commons Attribution License that allows others to share the work with an acknowledgement of the work's authorship and initial publication in this journal.
Authors are able to enter into separate, additional contractual arrangements for the non-exclusive distribution of the journal's published version of the work (e.g., post it to an institutional repository or publish it in a book), with an acknowledgement of its initial publication in this journal.
Authors are permitted and encouraged to post their work online (e.g., in institutional repositories or on their website) prior to and during the submission process, as it can lead to productive exchanges, as well as earlier and greater citation of published work (See The Effect of Open Access).