Ocular surface squamous neoplasia: a case series
Gholamhossein Yaghoobi

1. Social Determinant Health Research center, Birjand University of Medical Sciences, Iran

Abbas Hosseini Rad

Social Determinant Health Research center, Birjand University of Medical Sciences, Iran

Saeed Reza Heydari

Mashhad University of Medical Science, Mashhad, Iran.

Malihe Nikandish

Valiasr Hospital, Ayatollah Ghaffari Ave., Birjand, Southern Khorasan Province, Iran
Keywords:
caruncle, ocular surface squamous neoplasia, squamous cell carcinoma
Abstract
Purpose: This study was conducted to show diverse clinical presentation of ocular surface squamous neoplasia with a rare presentation of caruncle squamous cell carcinoma (SCC).
Methods: All cases that had suspicious ocular lesion were included in the treatment study. A detailed history including demographic data was obtained. Clinical features regarding the type of lesion, location, and the involvement of cornea were evaluated. For all patients, excisional biopsy following "Shield's no-touch technique" with 3 to 4 mm margins of uninvolved tissue and cryotherapy at excisional margins was done. All specimens were sent for a histopathological evaluation. Topical chemotherapy (mitomycin C, 0.02%) was used as an adjunctive therapy following surgical excision for large and diffuse ocular surface tumors. All patients were subjected to long-term regular follow-ups.
Results: Twenty-six patients (18 men and 8 women) with a mean age of 54.2 years were enrolled in this study. The results showed that the most common localization was bulbar conjunctiva (92%). Nodular lesions (46.5%) and SCC (57.5%) were the most common clinical and histopathological features, respectively. We observed one rare case of primary SCC of the left caruncle in a 68-year-old man who had an asymptomatic medial canthal mass. Recurrence was found in two patients with SCC, one of them having an orbital extension.
Conclusion: The early suspicion of ocular surface neoplasia will be accomplished with a simple excision in most cases, leading to a favorable outcome except in severe progressive cases.
References
Lee GA, Hirst LW. Ocular surface squamous neoplasia. Surv Ophthalmol. 1995;39(6):429-450.
Mitchael T, Carol LK. Modern management of ocular surface squamous neoplasia. Expert Rev Ophthalmol. 2013;8(3):287-295.
Dandala PP, Malladi P, Kavitha. Ocular Surface Squamous Neoplasia (OSSN): a retrospective study. J Clin Diagn Res. 2015;9:NC10-NC13.
Kao AA, Galor A, Karp CL, Abdelaziz A, Feuer WJ, Dubovy SR. Clinicopathologic correlation of ocular surface squamous neoplasms at Bascom Palmer Eye Institute: 2001 to 2010. Ophthalmology. 2012;119(9):1773-1776.
Atallah M, Joag M, Galor A, et al. Role of high-resolution optical coherence tomography in diagnosing ocular surface squamous neoplasia with coexisting ocular surface diseases. Ocul Surf. 2017 Oct;15(4):688-695.
Meel R, Dhiman R, Vanathi M, Pushker N, Tandon R, Devi S. Clinicodemographic profile and treatment outcome in patients of ocular surface squamous neoplasia. Indian J Ophthalmol. 2017;65:936-941.
Tanabe M, Yoshikawa H, Onishi Y, Kohno R, Ishibashi T. Ocular surface squamous neoplasia: analysis of 34 cases. Nippon Ganka Gakkai Zasshi. 2014 May;118(5):425-432.
Honavar SG. Ocular surface squamous neoplasia: are we calling a spade a spade? Indian J Ophthalmol. 2017;65:907-909.
Shields CL, Alset AE, Boal NS, et al. Conjunctival tumors in 5002 cases. Comparative analysis of benign versus malignant counterparts. The 2016 James D. Allen Lecture. Am J Ophthalmol. 2017;173:106-133.
Li AS, Shih CY, Rosen L, Steiner A, Milman T, Udell IJ. Recurrence of Ocular Surface Squamous Neoplasia treated with excisional biopsy and cryotherapy. Am J Ophthalmol. 2015;160(2):213-219.
Ali MJ, Pujari A, Dave TV, Kaliki S, Naik MN. Clinicopathological profile of orbital exenteration: 14 years of experience from a tertiary eye care center in South India. Int Ophthalmol. 2016;36(2):253-258.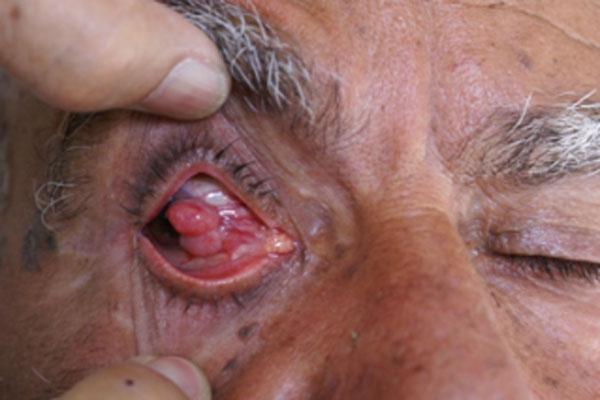 How to Cite
Yaghoobi, G., Hosseini Rad, A., Heydari, S. R., & Nikandish, M. (2020). Ocular surface squamous neoplasia: a case series. Asian Journal of Ophthalmology, 17(2), 182-187. https://doi.org/10.35119/asjoo.v17i2.560
Section
Case Reports/Case Series
Copyright (c) 2020 Gholamhossein Yaghoobi, Abbas Hosseini Rad, Saeed Reza Heydari, Malihe Nikandish
This work is licensed under a Creative Commons Attribution 4.0 International License.
Authors who publish with this journal agree to the following terms:
Authors retain copyright and grant the journal right of first publication, with the work twelve (12) months after publication simultaneously licensed under a Creative Commons Attribution License that allows others to share the work with an acknowledgement of the work's authorship and initial publication in this journal.
Authors are able to enter into separate, additional contractual arrangements for the non-exclusive distribution of the journal's published version of the work (e.g., post it to an institutional repository or publish it in a book), with an acknowledgement of its initial publication in this journal.
Authors are permitted and encouraged to post their work online (e.g., in institutional repositories or on their website) prior to and during the submission process, as it can lead to productive exchanges, as well as earlier and greater citation of published work (See The Effect of Open Access).