Bloody tears: a case of bilateral ulcerative blepharitis
Praveena Gupta

Wilmer Eye InstituteJohns Hopkins UniversityBaltimore, MD 21287

Laura Di Meglio

Wilmer Eye InstituteJohns Hopkins University Baltimore, MD 21287

Ashley Behrens

Wilmer Eye Institute Johns Hopkins University Baltimore MD21287
Keywords:
atopic dermatitis, blepharitis, ulcerative blepharitis
Abstract
Chronic blepharitis leading to bilateral ulceration is rare to encounter. A 49-year-old African American female presents with bloody tears, severe pain, and photophobia in both eyes. Clinical presentation called for ulceration on the upper lid margins with excavated wound which bled on gentle rubbing. A systemic health review in combination of the symptoms and clinical picture led to the diagnosis of severe ulcerative blepharitis. Immediate oral antibiotics were started along with topical antibiotic cream. Ulcerative blepharitis can be easily misdiagnosed with sebaceous cell carcinoma. The pathophysiology of ulcerative blepharitis points to synergy between infectious entity and inflammatory aetiology, with either bacterial or fungal microorganisms as the trigger agents. Almost all cases of ulcerative blepharitis should include a dermatological evaluation given there is a strong association between ulcerative blepharitis and atopic dermatitis.
References
1. Dougherty JM, McCulley JP. Comparative bacteriology of chronic blepharitis. Br J Ophthalmol.
1984;68(8):524-528.
2. McCulley JP, Dougherty JM. Bacterial aspects of chronic blepharitis. Trans Ophthalmol Soc U K.
1986;105(Pt 3):314-318.
3. Huber-Spitzy V, Baumgartner I, Bohler-Sommeregger K, et al. Blepharitis--a diagnostic and
therapeutic challenge. A report on 407 consecutive cases. Graefes Arch Clin Exp Ophthalmol.
1991;229(3):224-227.
4. Thygeson P. Etiology and treatment of blepharitis. Arch Ophthal. 1946;36(4):445-477.
5. McCulley JP, Shine WE. Changing concepts in the diagnosis and management of blepharitis.
Cornea. 2000;19(5):650-658.
6. Huber-Spitzy V, Bohler-Sommeregger K, Arocker-Mettinger E, et al. Ulcerative blepharitis in
atopic patients--is Candida species the causative agent? Br J Ophthalmol. 1992;76(5):272-274.
7. Egerer I, Stary A. Erosive-ulcerative herpes simplex blepharitis. Arch Ophthalmol.
1980;98(10):1760-1763.
8. Beck RW. Conjunctival, corneal involvement accompanying erosive-ulcerative blepharitis. Arch
Ophthalmol. 1981;99(3):512.
9. Dasari K, Kasetty HK. Ulcerative blepharitis in an atopic child caused by Candida. Ind J of Ped
Ophthalmol. (2015) 16(1):42-44..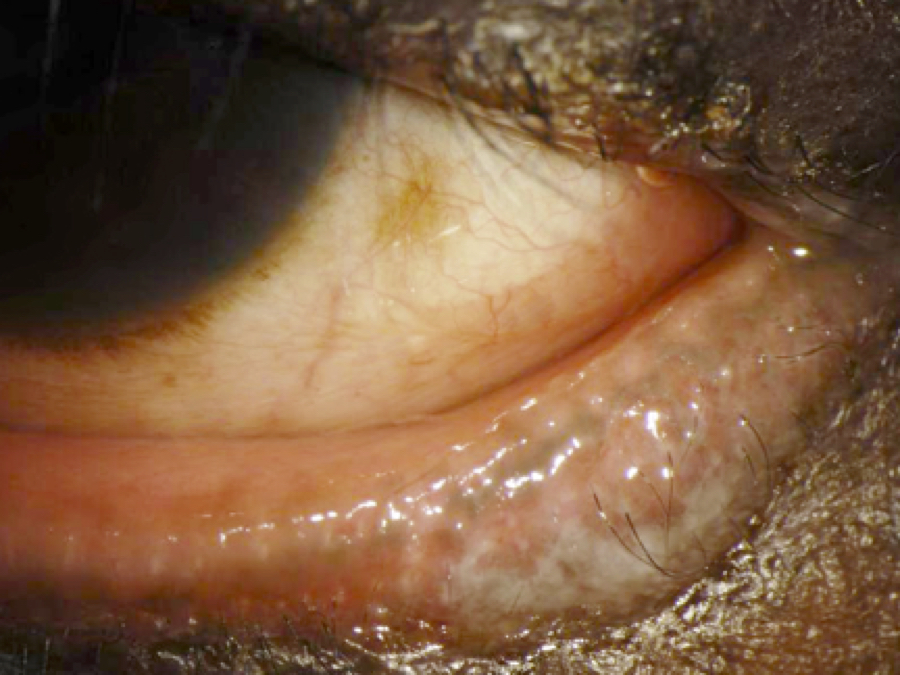 How to Cite
Gupta, P., Di Meglio, L., & Behrens, A. (2018). Bloody tears: a case of bilateral ulcerative blepharitis. Asian Journal of Ophthalmology, 16(2), 119-123. https://doi.org/10.35119/asjoo.v16i2.376
Section
Case Reports/Case Series
Copyright (c) 2018 Asian Journal of Ophthalmology
This work is licensed under a Creative Commons Attribution 4.0 International License.
Authors who publish with this journal agree to the following terms:
Authors retain copyright and grant the journal right of first publication, with the work twelve (12) months after publication simultaneously licensed under a Creative Commons Attribution License that allows others to share the work with an acknowledgement of the work's authorship and initial publication in this journal.
Authors are able to enter into separate, additional contractual arrangements for the non-exclusive distribution of the journal's published version of the work (e.g., post it to an institutional repository or publish it in a book), with an acknowledgement of its initial publication in this journal.
Authors are permitted and encouraged to post their work online (e.g., in institutional repositories or on their website) prior to and during the submission process, as it can lead to productive exchanges, as well as earlier and greater citation of published work (See The Effect of Open Access).